Contact Us
True Montessori is an educational organization aimed at revolutionizing the teaching-learning culture in our schools and societies by applying the Montessorian approach to learning through its certified professional Montessori Teacher Training Courses.
Email
support@truemontessori.in
Getting Started is Easy as 123. Start Your Course Now !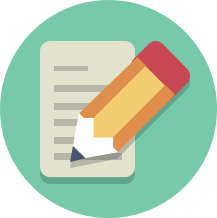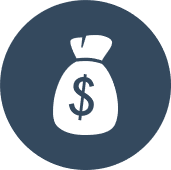 Q: How do I benefit from joining this course?
A: True Montessori's Teacher Training Course is specifically designed to grow your teaching skills in the Montessorian philosophy to best nurture young minds and make them grow.
By joining this course, you expand your preaching and directing skills in these aspects:
Teaching philosophy
Managing children
Child thinking and guidance
Linguistic teaching
Math teaching
Cultural teaching
We hope you get all the benefits by joining our course!
Q: What do I get to learn in this course?
A: Our course consists of necessary methods and practices needed to best equip you with Montessorian philosophy and techniques.
Here is a brief summary of what's included in the course to best help you understand what the course offers:
Module 1: Montessori Philosophy
Module 2: Child Development
Module 3: Practical Life
Module 4: Sensorial
Module 5: Language
Module 6: Mathematics
Module 7: Culture
Module 8: Observation
Module 9: Curriculum
For more details and benefits of our course, refer to this course's details on our courses page. Thanks!
Q: What are the advantages of the Montessori method over traditional methods?
A: The major advantage of Montessori teaching over traditional teaching is the child-centric approach that it offers which best helps the children grow. Overall, as a teacher, you also grow various aspects of your teaching along with it. For more detailed difference, visit the table below: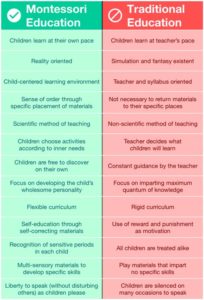 Q: What is the course duration and period?
A: Our Montessori training course consists of nine modules spanning over 200 hours of course content which is ample to learn and master the training. For the duration and period, the course is self-paced and you can complete it anytime according to your convenience within the given one year access.
Q: I have a doubt/question, how can I contact to clarify?
A: For any query or doubt, you can visit our contact page and ask, we'll be happy to clarify and assist!
For course content queries and doubts, a personal trainer is assigned to you for better aid and to make sure you get every understanding of our course.
Q: What is Montessori education?
A: Montessori Education is a child-centered approach of teaching and learning developed by Dr. Maria Montessori. Montessori Education prioritizes the focus of learning on the children and interaction of the child with the environment and surroundings to learn and grow.
Montessori method of teaching involves the use of materials to enhance the child's physical, intellectual, emotional and language development. It also supports the development of self-confidence, independence and concentration that are essential in life.